Te-Tech have been working with developers, engineers and consultants to provide an efficient solution to address the nitrate neutrality challenge.
Nutrient Neutrality, or Nitrate Neutrality as it is commonly called, has become a key obstacle for developers when seeking to obtain planning approval in counties that host areas protected under the Water Environment Regulations and Conservation of Habitats and Species Regulations. These protected areas may already experience high input levels of nitrogen and phosphorus into the water environment contributing to eutrophication at these designated sites.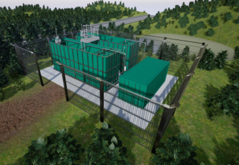 Te-Tech can provide an effective advanced wastewater treatment solution for commercial clients seeking to achieve Nitrate Neutrality on new developments. Our te-cycTM technology, with over 500 reference plants around the world, is a cost effective advanced biological treatment process utilising cyclic activated sludge technology to achieve simultaneous nitrification and denitrification for the effective removal of nitrates and phosphorus.
The te-cycTM process has a low chemical and energy consumption and can be provided in concrete tanks or as a compact standard packaged treatment solution, located above or below ground depending upon the requirements of the specific development.The standard package units come as a complete 'plug and play' system including aeration blowers, chemical dosing and local control panels for automated operation.
Larger sites can be catered for with multiple units or streams particularly where there may be seasonal variations in flow and load or alternatively where operational flexibility is required or where flows may be phased or incremental as developments progress.
Case Studies and Product Information
Other Solutions