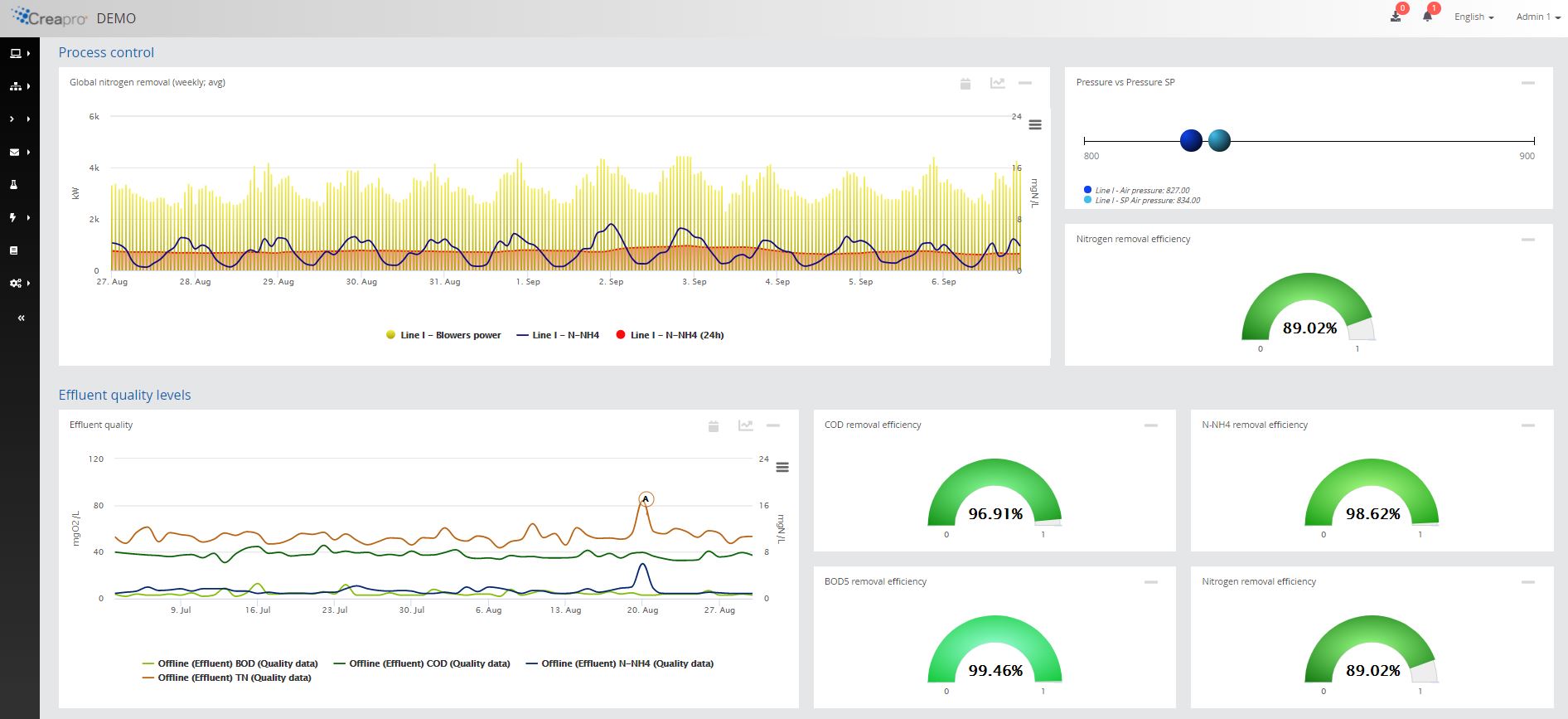 C-Removal
Provides the most appropriate oxygen dynamic set point to optimise organic matter removal with minimum energy cost,
Air production & distribution
Based on real-time oxygen demand, provides a strategy that guarantees oxygen levels applying dynamic pressure control, ensuring the maximum aeration system efficiency at a suitable MOV scenario.
Internal recirculation
Adjusts internal recirculation pumping according to nitrate levels, treated flow and retention in the anoxic chambers.
External recirculation
Optimises sludge recirculation according to the site's treatment flow and sludge settlement conditions.
Advanced energy management
Analysing energy consumption, provides intelligence to other control systems to determines specific process/equipment ratios that enables early problem detection, and facilitating intervention.
Chemical phosphorus removal
Adjusts chemical dosage to maximise efficient based upon orthophosphate concentration or total phosphate in the wastewater influent/effluent.
External input of organic carbon
Ensures N-removal efficiency with by optimising consumption of  external carbon source dosing in WTWs
External nitrogen input
Adjusts dosage of an external source of nitrogen in WWTPs with an excessive COD/N ratio, which hinders cell synthesis due to lack of nutrients.
Sludge Retention Time
Based on nitrification performance and water temperature, the system adjusts the sludge waste flow (or provides recommended adjustments) to operate the process at the minimum sludge age required for achieving the desired effluent quality levels.
Optimise modules can also be configured to focus on specific elements of the sludge treatment process as detailed below:
Anaerobic digestion
Using real time monitoring of the key performance parameters (mass load, VFA/ALK ratio, biogas production, etc.), water treatment capacity is optimised and the reduction of organic matter and biogas production are maximized.
Sludge thickening
Optimises polymer dose in real time, stabilising the thickening process, increasing solids capture while reducing chemical dosing costs.
Sludge dewatering
Optimises polymer dose in real time, increase solids capture while saving money on sludge disposal and polymer costs.
Cogeneration
Based on biogas production, storage and kWh cost, defines the cogeneration engine operating strategy to maximise power generation and/or adapt it to site power consumption patterns.