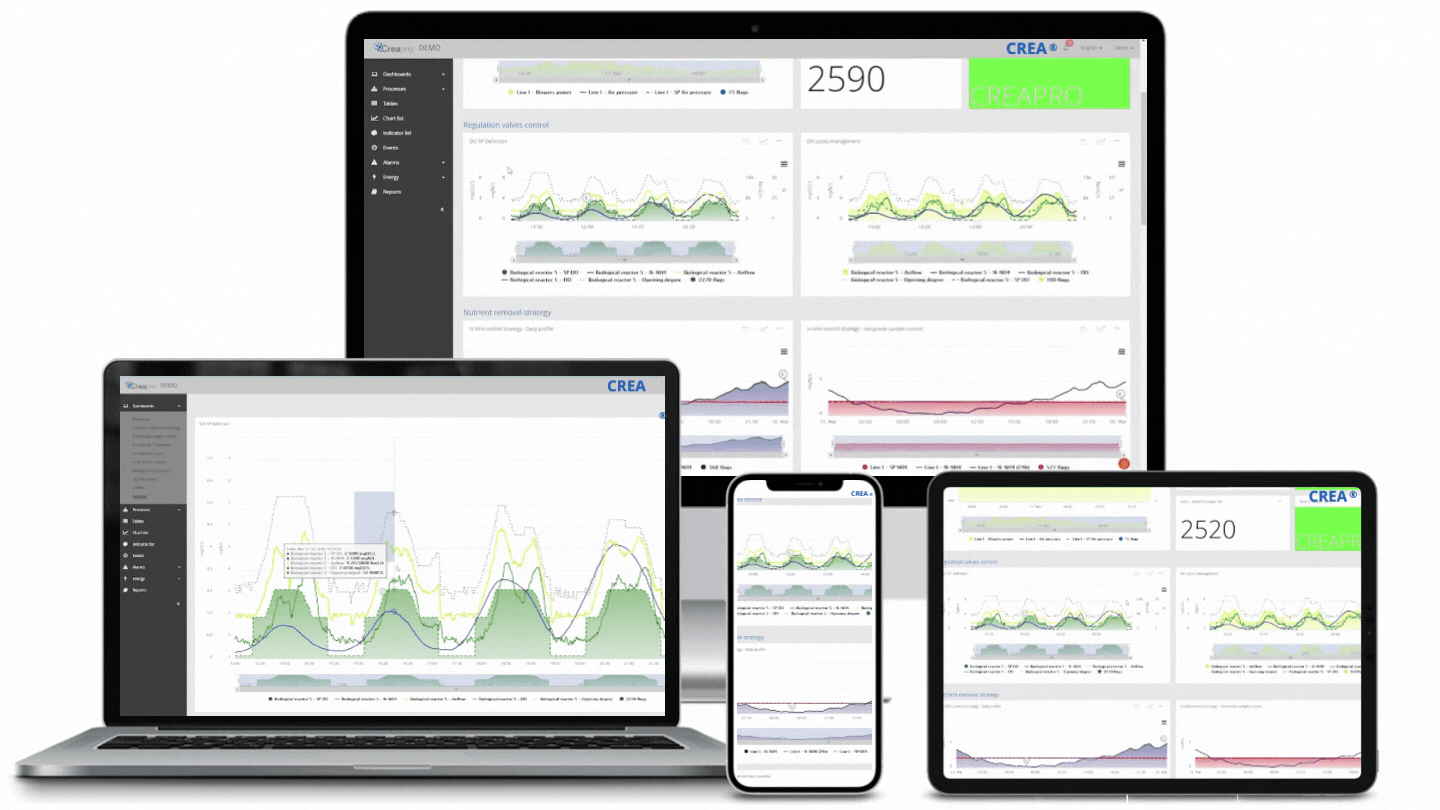 Service Features
★ CREA® Intelligent Control System - allowing 24/7 optimisation of wastewater treatment processes using intelligent decision-making and process management to ensure maximum process performance.
★ Real-time data monitoring - utilisation of existing instrumentation and addition of new instrumentation to measure key wastewater treatment process parameters, to be fed into the CREA® platform.
★ In-house design & fabrication - of control panels and MCCs using industry standard PLCs and SCADA systems for deployment on industrial networks including Ethernet, Profibus, ProfiNet, DH+, Modbus and Asis.
★ Installation & integration - of control systems, instrumentation, hardware & software to allow process control systems to interact with plant hardware.
★ Service flexibility – Asset Optimisation solutions for both new and legacy builds, of any size, process configuration & aeration technology.
Why is Asset Optimisation needed?
Unlike most process industries, which have consistent operating conditions, with controlled feedstocks and carefully planned production, the water industry's "feedstock" is whatever comes down the sewer, with massive variations in flow and quality depending on the season, the weather and the time of day.
Even with the best conventional control systems, many wastewater treatment works frequently over-aerate, adding to energy costs, or under-aerate leading to performance problems. Similarly, chemical dosing controllers all too often over- or under-dose because they cannot respond quickly enough to changes in influent quality. With ever tightening effluent discharge consents, rising costs and extreme weather events adding to the pressures on the industry, optimisation of wastewater treatment assets has never been more important.
Our Asset Optimisation service focuses on continuous process optimisation, using the CREA® Intelligent Control System combined with real-time data monitoring, to ensure that treatment works are operating at peak efficiency at all time.
Benefits of Asset Optimisation & CREA® intelligent control:
✔ Maximise process performance, reliability and overall plant efficiency
✔ Ensure effluent quality
✔ Reduce energy & chemical consumption
✔ Extend the life of existing assets

What is CREA®?
CREA® is an intelligent control system and forms the basis of our Asset Optimisation service. The system provides real-time control and decision-making over wastewater treatment processes, to maximise process performance and reliability in order to improve overall plant efficiency.
CREA® has modules to control aerobic and anaerobic biological processes, chemical dosing, sludge age, recycling and sludge thickening, dewatering and digestion. It uses artificial intelligence combined with classic mathematical models and fuzzy logic, CREA® ensures treated effluent quality is always met, whilst minimising energy and chemical consumption and reducing carbon footprint.
Click on our CREA® brochure below